The month of of May is dedicated to
The Blessed Virgin Mary
. The entire month of May falls within the liturgical season of
Easter
, which is represented by the liturgical color white — the color of light, a symbol of joy, purity and innocence (absolute or restored).
The Holy Father's Intentions for the Month of MAY  2022
For faith-filled young people: We pray for all young people, called to live life to the fullest; may they see in Mary's life the way to listen, the depth of discernment, the courage that faith generates, and the dedication to service. (See also Apostleship of Prayer)
MAY 25TH

Wednesday of the Sixth Week of Easter; Optional Memorials of St. Bede the Venerable, priest and doctor; St. Gregory VII, pope; St. Mary Magdalene de Pazzi, virgin
Gospel Verse, John 14:16:
I will ask the Father and he will give you another Advocate to be with you always.
---
There are three saints that are offered as Optional Memorials today. First is St. Bede, the Venerable, who was born in England. A Benedictine, he was "the most observant and the happiest of all monks." His writings were so full of sound doctrine that he was called "Venerable" while still alive. He wrote commentaries on Holy Scripture and treatises on theology and history. He died at Jarrow, England, in 753.
St. Gregory VII is the second saint. Gregory was a Benedictine monk of Cluny. Before ascending to the papacy as the 157th pope, he fought against the abuse of lay investiture, the source of the evils from which the Church was suffering. His energetic stance as Pope Gregory VII earned for him the enmity of the Emperor Henry IV. He was exiled to Salerno where he died on May 25, 1085.
The final saint is St. Mary Magdalene de Pazzi, who was born in Florence and joined the Carmelites when she was nineteen. She practiced great mortification for the salvation of sinners; her constant exclamation was, 'To suffer, not to die!' With apostolic zeal, she urged the renewal of the entire ecclesiastical community. She died on May 25, 1607.
The Roman Martyrology also commemorates St. Madeline Sophie Barat, foundress in France of the Society of the Sacred Heart. She died in 1865.
Today marks the final day of the traditional observance of the Minor Rogation Days, which fall Monday through Wednesday preceding Ascension Thursday.
---
Rogation Days
Monday, Tuesday and Wednesday of this week we commemorate the traditional dates for the Minor Rogation Days. These are days of prayer and formerly fasting, which take place every year on April 25th and the three days preceding the feast of the Ascension, the former being known as the Major Rogation and the latter as the Minor Rogations. The word "rogation" has its origins in the Latin word rogare, which means to supplicate or ask, and the purpose of Rogation Days is to beg God for His mercy, to turn away His anger, and to ask Him to bless the fruits of the earth while protecting us from natural disasters. The Rogation Days no longer appear on the General Roman Calendar, but celebrated according to the local conference of bishops.
Things to Do:
---
St. Bede the Venerable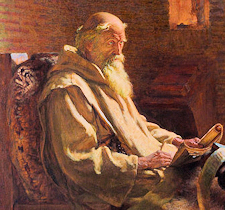 Bede occupies an important niche in Church history by bridging the gap between patristic and early medieval times, the era when the Germanic nations had just been Christianized. Through him Christian tradition and Roman culture came to the Middle Ages. He is also honored as the "father of English history." His writings were read publicly in churches while he was still alive; but since he could not be called "Saint," the title of Venerable was attached to his name, a usage which continued down through the centuries.
True Benedictine that he was, his life revolved around prayer and work. On the vigil of the Ascension he felt death approaching and asked to be fortified with the last sacraments. After reciting the Magnificat antiphon of the feast's second Vespers, he embraced his brethren, had himself placed upon a coarse penitential garment on the earth, and breathed forth his soul while saying softly: "Glory be to the Father, and to the Son, and to the Holy Ghost."
How St. Bede loved the Bible! Anyone who intends to live with the Church must keep the Scriptures near—day in, day out. St. Bede explained the Bible to others. At times you too will have this privilege. Use it.
—Excerpted from The Church's Year of Grace, Pius Parsch.
Patron: Lectors; historians.
Symbols: Pitcher of water and light from Heaven; scroll; pen and inkhorn; volume of ecclesiastical history.
Often portrayed as: Monk writing at a desk; old monk dying amidst his community; old monk with a book and pen; old monk with a jug.
Things to Do:
---
St. Gregory VII
Gregory VII—his name had been Hildebrand before becoming Pope—was born about the year 1020. For two years he was a Benedictine monk of Cluny (1047-1049), then he became a cardinal, and finally, in 1073, Pope. A strong character with a remarkable personality, he easily takes a place with the greatest popes in the Church's history.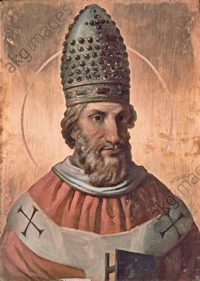 His life was one long struggle to purify and unify the Church, and to make her free and independent of secular powers. He enacted strict prohibitions against simony (the purchasing of ecclesiastical preferments), clerical concubinage, and lay investiture (appointment to ecclesiastical offices by civil authorities). On this later score he soon became involved in a dispute with the Emperor Henry IV which caused him untold trouble and which finally resulted in banishment and death. But his stand cleansed the Church and restored its status. Gregory died in exile with these words on his lips: "I loved justice and hated iniquity, therefore I die in exile."
Concerning him the Protestant historian Gregorovius wrote: "In the history of the papacy, there will always be two shining stars to reveal the spiritual greatness of the popes. The one is Leo, before whom the terrible destroyer Attila drew back; the other is Gregory, before whom Henry IV knelt in the garb of a penitent. Each of these world renowned men, however, engenders a different reaction. Where Leo inspires highest reverence for pure moral greatness, Gregory fills one with admiration because of an almost superhuman personality. The monk who won without weapons has more right to be admired than Alexander, Caesar, or Napoleon.
"The battles fought by medieval popes were not waged with weapons of iron and lead, but with moral weapons. It was the application and operation of such lofty, spiritual means that occasionally raised the Middle Ages above our own. Alongside Gregory, Napoleon appears as a bloody barbarian. . . . Gregory's accomplishment is a distinctly medieval phenomenon, to study it will always be exciting. The history of the Christian world would lose one of its rarest pages if this stalwart character, this artisan's son in the tiara, were missing."
—Excerpted from The Church's Year of Grace, Pius Parsch.
Things to do:
As we recall this great pope, we should spend some time reading the writings of our current pope and thanking God for the gift of the papacy to the Church.
Read about Emperor Henry IV and the Internecine wars here.
Watch this video about the conflict between Pope Gregory VII and Emperor Henry IV.
---
St. Mary Magdalene de Pazzi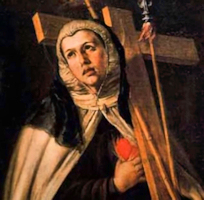 Mary Magdalen of Pazzi, a highly gifted mystic, had made a vow of chastity at the age of ten. She entered the convent of the Discalced Carmelite nuns in Florence, because the practice of receiving holy Communion almost daily was observed there. For five years her only food was bread and water. She practiced the most austere penances and for long periods endured complete spiritual aridity. Her favorite phrase was: "Suffer, not die!" Her body has remained incorrupt to the present day; it is preserved in a glass coffin in the church of the Carmelite nuns at Florence.
Purity of soul and love of Christ are the chief virtues which the Church admires in St. Mary Magdalen of Pazzi. These virtues matured her spiritually and enabled her to take as a motto, "Suffer, not die!" Purity and love are also the virtues which the Church today exhorts us to practice in imitation of the saint. We may never attain her high degree of holiness, but we can at least strive to suffer patiently out of love for Christ.
—Excerpted from The Church's Year of Grace, Pius Parsch.
Patron: Bodily ills; sexual temptation; sick people.
Things to Do:
Contemplative nuns and monks spend their whole lives praying for the needs of the world and doing penance for the sins of others, but they also need our prayers. Say a prayer today for someone you know who is a contemplative religious or for a contemplative community which is in your area.
Read Who Was St. Mary Magdalene de Pazzi? at the Divine Mercy.
Read St. Mary Magdalene de' Pazzi – Biographical profile at the Order of Carmelites.
Watch this video on St. Mary Magdalene de' Pazzi.
---
St. Madeleine Sophie Barat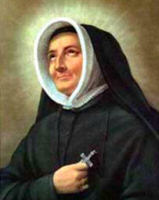 Under the guidance of her brother Madeleine Sophie Barat became at an early age proficient in Latin, Greek, Spanish and Italian. The brother, nine years her senior, was a stern disciplinarian. If her work was bad, she was punished—sometimes by a box on the ears—but if she did well, no word of praise was uttered. She was never allowed to relax from this discipline—even walks were forbidden unless they were strictly necessary for exercise; and when, in a moment of mistaken tenderness, she gave her brother a present, he threw it on the fire. She was ten when the French Revolution occurred in 1789. Afterwards, and still under the influence of her brother, she met Father Varin who desired to found a female counterpart of the Jesuits which should do for girls' education what they did for boys' education. On November 21, 1800, Madeleine with three companions dedicated herself to the Sacred Heart and so the New Congregation was begun. From the first house at Amiens it was to spread in the lifetime of its foundress all over Europe and to Africa and America, and its boarding schools have become famous.
Madeleine's energy in extending the work was seconded by her reliance on God which enabled her to succeed in times of great difficulty. 'Too much work is a danger to an imperfect soul,' she said, 'but for one who loves our Lord it is an abundant harvest.'
—Excerpted from The Saints edited by John Coulson
Things to Do: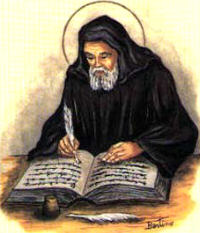 MASS READINGS
May 25, 2022 (Readings on USCCB website)
COLLECT PRAYER
Easter: Grant, we pray, O Lord, that, as we celebrate in mystery the solemnities of your Son's Resurrection, so, too, we may be worthy to rejoice at his coming with all the Saints. Through our Lord Jesus Christ, your Son, who lives and reigns with you in the unity of the Holy Spirit, God, for ever and ever.
---
St. Bede: O God, who bring light to your Church through the learning of the Priest Saint Bede, mercifully grant that your servants may always be enlightened by his wisdom and helped by his merits. Through our Lord Jesus Christ, your Son, who lives and reigns with you in the unity of the Holy Spirit, God, for ever and ever.
---
St. Gregory VII: Give to your Church, we pray, O Lord, that spirit of fortitude and zeal for justice which you made to shine forth in Pope Saint Gregory the Seventh, so that, rejecting evil, she may be free to carry out in charity whatever is right. Through our Lord Jesus Christ, your Son, who lives and reigns with you in the unity of the Holy Spirit, God, for ever and ever.
---
St. Mary Magdalene de'Pazzi: O God, lover of virginity, who adorned with heavenly gifts the Virgin Saint Mary Magdalene de'Pazzi, setting her on fire with your love, grant, we pray, that we, who honor her today, may imitate her example of purity and love. Through our Lord Jesus Christ, your Son, who lives and reigns with you in the unity of the Holy Spirit, God, for ever and ever.
https://www.catholicculture.org/culture/liturgicalyear/calendar/day.cfm?date=2022-05-25&
Daily Meditation: Acts 17:15, 22–18:1
But some did join him, and became believers. (Acts 17:34)
The Athenians were more than curious about Paul's "strange notions" (Acts 17:20). So they invited him to speak before the Areopagus, a group of Athenian leaders and thinkers who took their name from the small hill northwest of the city where they met.
Paul's speech was a masterful example of how to reach out to people of different faiths and worldviews. He began not by refuting the beliefs of the Athenians but by acknowledging them. In fact, he told those gathered that day that they were "very religious" (Acts 17:22). Still, he didn't convince many of the people. They just couldn't fathom how anyone, especially a Jewish carpenter, could rise from the dead.
We might think that Paul went away frustrated and discouraged. Yet his preaching was not in vain—"some did join him" (Acts 17:34). And it probably didn't end there. One of the new believers was Dionysius, a member of the Court of the Areopagus, who probably had an outsized influence in the city. Who knows how many other people came to know Jesus through him and the others who were converted that day?
This is what is sometimes called "spiritual multiplication." When one person turns to Jesus because you have shared your faith with them, there's a good chance that they will then share their faith with another person, and so forth. From one conversion, many more will come.
That's why you should never underestimate the impact you can have when you introduce someone to Jesus or bring someone further along in their walk with the Lord. You may see your influence extending only to one person, but that's not the end of the story. You probably won't know the end of the story until you reach heaven! But based on the multiplier effect, it's probably more than you might ever imagine.
So don't get discouraged if you don't see much fruit coming from your efforts to share the good news. Paul didn't—he just did what God was asking of him and let the Lord take care of the rest. And that's what we can do too!
"Jesus, may my efforts to preach the good news bear fruit, even when I can't see it."
Psalm 148:1-2, 11-14
John 16:12-15
MARY'S MEALS
Our mission is to enable people to offer their money, goods, skills, time, or prayer, and through this involvement, provide the most effective help to those suffering the effects of extreme poverty in the world's poorest communities. We welcome all into the Mary's Meals family and we believe everyone has something important to contribute to the realization of our vision.
For every $1 you give, 93 cents is spent directly on charitable activities. Thank you for your help and support!

MIRACULOUS MEDAL
 In 1830, one of the apparitions sanctioned by the Roman Catholic Church occurred in the chapel of the Daughters of Charity of St. Vincent de Paul, Rue de Bac, Paris. There were three visions given to Saint Catherine Laboure who, at the time of the first one, was a novice in the order. She was awakened at 11:30 PM on the eve of the Feast of St. Vincent de Paul, by a "shining child" who led her to the chapel where she saw Our Lady, who spoke to her for two hours about the difficult task that lay ahead. Four months later, on November 27 Catherine had the second vision wherein she saw a three-dimensional scene of the Blessed Virgin standing on a white globe with dazzling rays of light streaming from her fingers and she heard a voice say:
"These are the symbols of grace I shed upon those who ask for them."
"There now formed around the Blessed Virgin a frame rather oval in shape on which were written in letters of gold these words: 'O Mary conceived without sin, pray for us who have recourse to Thee' Then the voice said: ' Have a medal struck upon this model. All those who wear it, when it is blessed, will receive great graces especially if they wear it round the neck. Those who repeat this prayer with devotion will be in a special manner under the protection of the Mother of God. Graces will be abundantly bestowed upon those who have confidence.' "
At the same instant, the oval frame seemed to turn around. Then I saw on the back of it the letter 'M', surmounted by a cross, with a crossbar beneath it, and under the monogram of the name of Mary, the Holy Hearts of Jesus and of His Mother; the first surrounded by a crown of thorns and the second transpierced by a sword. I was anxious to know what words must be placed on the reverse side of the medal and after many prayers, one day in meditation I seemed to hear a voice which said to me: ' The 'M' with the Cross and the two Hearts tell enough.' "
This sacramental from Heaven was at first called simply the Medal of the Immaculate Conception, but began to be known as the Miraculous Medal due to the unprecedented number of miracles, conversions, cures, and acts of protection attributed to Our Lady's intercession for those who wore it.
Sister Catherine became Saint Catherine in 1947. The church instituted recognition of the apparition in which the Miraculous Medal first appeared for November 27, 1830. Millions of the Miraculous Medal have been distributed, and many graces and miracles have been received through this devotion to Our Lady.    
*Click on this link for a free Miraculous Medal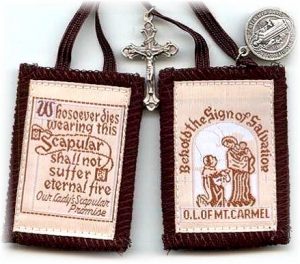 BROWN SCAPULAR OF MT. CARMEL
"Whosoever dies clothed in this
shall never suffer eternal fire."
Virgin Mary's promise to Saint Simon Stock
July 16, 1251″Wear it devoutly and perserveringly," she says to each soul, "it is my garment. To be clothed in it means you are continually thinking of me, and I in turn, am always thinking of you and helping you to secure eternal life."
The scapular is an external sign of the filial relationship established between the Blessed Virgin Mary, Mother and Queen of Mount Carmel, and the faithful who entrust themselves totally to her protection, who have recourse to her maternal intercession, who are mindful of the primacy of the spiritual life and the need for prayer.
THE SABBATINE PRIVELEGE
The blessed Virgin of Mt. Carmel has promised to save those who wear the scapular fromthe fires of Hell; She will also shorten their stay in Purgatory if they should passfrom this world still owing some temporal debt of punishment.
The Blessed Virgin appeared to him and speaking of those who wear the Brown Scapular said: "I, the Mother of grace, shall descend on the Saturday after their death and whomsoever I shall find in Purgatory, I shall free, so that I may lead them to the holy mountain of life everlasting."
Pope Benedict XV proceeded to grant an indulgence of 500 days for each time the cloth Scapular is kissed". On July 16th, the Scapular feast, while addressing the seminarians of Rome, Benedict XV said: "Let all of you have a common language and a common armor: the language, the sentences of the Gospel; the common armor, the Scapular of the Virgin of Carmel, which you all ought to wear and which enjoys the singular privilege of protection even after death."
Pope Benedict XV, addressing seminarians in Rome:"Let all of you have a common language and a common armor: The language, the sentences of the Gospel – the common armor, the Brown Scapular of the Virgin of Carmel which you ought to wear and which enjoys the singular privilege and protection after death."The Brown Scapular | A Sacramental"One of the most remarkable effects of sacramentals is the virtue to drive away evil spirits whose mysterious and baleful operations affect sometimes the physical activity of man. To combat this occult power the Church has recourse to exorcism, and sacramentals" (The Catholic Encyclopedia., 1913, VXIII, p. 293).The Brown Scapular | A True StoryYou will understand why the Devil works against those who promote the brown scapular when you hear the true story of Venerable Francis Yepes. One day his Scapular fell off. As he replaced it, the Devil howled, "Take off that habit which snatches so many souls from us! All those clothed in it die piously and escape us!" Then and there Francis made the Devil admit that there are three things which the demons are most afraid of: the Holy Name of Jesus; theHoly Name of Mary and the Holy Scapular of Carmel."Modern Heretics make a mockery of wearing the Scapular. They decry it as so much trifling nonsense." – St. Alphonsus LigouriMary, Mother of God and Our Mother"When Mary became the Mother of Jesus, true God and true Man, She also became our Mother. In His great mercy, Jesus wished to call us His brothers and sisters, and by this name He constituted us adopted children of Mary." – St. John BoscoOver the years there have also been many miracles associated with wearing the brown scapular.
*If you would like a brown scapular click here: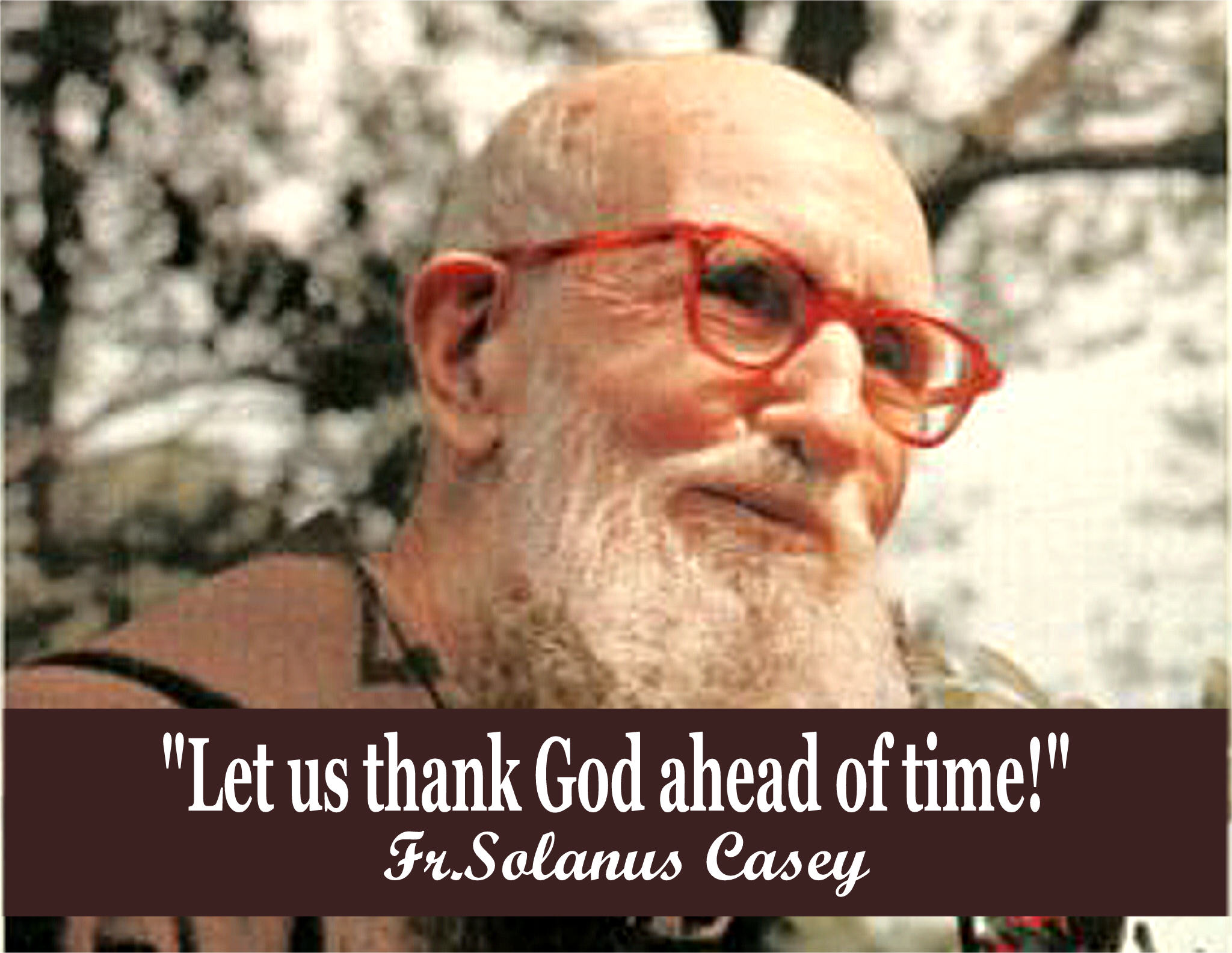 New Catholic Radio Station serving Chittenden County
Donna McSoley stands in St. Francis Xavier Church in Winooski. She is the driving force behind a new Catholic radio station. Photo by Gail Callahan
WINOOSKI – In a state identified in a national study two years ago as one of the least religious in the country, a new Catholic radio station is being hailed by the market and people of faith.
Our Lady of Perpetual Help Radio, which can be found at 105.5 FM, transmits 24-hour daily programming of the Eternal Word Television Network from the St. Francis Xavier Church property in Winooski. The station can be heard in the greater Burlington area and started broadcasting earlier this fall.
Donna McSoley, the driving force behind WRXJ 105.5 FM, said she is eager to begin producing some local programming after she learns more about audio editing software. McSoley said one of her ambitions is to air homilies from priests who serve the Roman Catholic Diocese of Burlington.
"I wanted to bring Catholic radio to Vermont because many people here have rejected Christianity without even knowing much about church history, the early church fathers, or never having read the Bible in its entirety," said McSoley. "Our state is in crisis over heroin and other drugs, and many people are lost and are desperately searching for freedom from addictions and a greater meaning in life."
In 2015, the Pew Research Center conducted the Religious Landscape study, and Vermont tied as the 48th most religious state. The study found 34 percent of the Green Mountain State's adults said they are "highly religious."
A state's spiritual devotion was measured by factors including "absolute belief in God and daily prayer."
The Rev. Lance Harlow, rector of the Cathedral of the Immaculate Conception and St. Joseph's Co-Cathedral in Burlington, records in WRXJ radio's Winooski station. Courtesy photo
McSoley, a parishioner at St. Francis Xavier Church, began the quest to secure a broadcast license more than five years ago when the Federal Communications Commission opened a small window to own a channel on the FM spectrum for a low-power station. It took about 18 months to secure the FCC's approval.
McSoley accesses the station's computers remotely from her Essex Junction home.
She said a radio station can reach people in ways other media outlets can't. "Radio can be a great way to reach people in the privacy of their own car and where people are apt to ponder life's great questions," she said. "I think for that reason, radio can be a great way to explain the Catholic faith, which is largely misunderstood by the general public. … My hope is that the programs on the station can clear this up and we can foster greater unity within the Christian community here in Vermont."
Ted Quigley, a practicing Catholic, embraces the organization. "105.5 FM is a wonderful change in my life," he said. "I turn it on when I'm driving or when I'm home cleaning."
The Most Rev. Christopher Coyne, bishop of Vermont's Catholics, recorded some station identifications that play through the hour.
Coyne, who was named by Pope Francis to shepherd Vermont's Catholics nearly two years ago, said he welcomes the station, praising McSoley's efforts. "The Catholic community in Vermont has been very supportive of the launch of Our Lady of Perpetual Help Radio," said Coyne. "Right now, this is the only Catholic radio station in Vermont. I hope to see many more begin to broadcast soon."
Coyne's remarks regarding the dearth of religious broadcasting in Vermont underscore what many perceive as an absence of God from the public dialogue. The FCC said it doesn't keep track of content when license applications come in.
The program director for a Christian radio network serving Vermont said religious-oriented radio outlets are filling a much-needed niche. Bob Pierce, of The Light Radio Network, said his Christian station reaches about 15,000 listeners in Chittenden County.
In a competitive market, McSoley said she is anxious for WRXJ's message to spread. "Although Vermont is one of the least religious states in the country, I have great faith that people will always be able to recognize truth when they hear it, so my hope is that many people will turn on the radio and start the journey toward discovering God," she said.
https://vtdigger.org/2017/11/05/new-catholic-radio-station-serving-chittenden-county/#.WgItH9QrK6Y