The month of September is dedicated to Our Lady of Sorrows, whose memorial the Church celebrates on September 15. September falls during the liturgical season known as Tempus per Annum or Ordinary Time (formerly Time After Pentecost, which is represented by the liturgical color green. Green is a symbol of hope, as it is the color of the sprouting seed and arouses in the faithful the hope of reaping the eternal harvest of heaven, especially the hope of a glorious resurrection. The liturgical color green is worn during prayer of Offices and Masses of Ordinary Time.
The Holy Father's Intentions for the Month of SEPTEMBER 2022
For the abolition of the death penalty: We pray that the death penalty, which attacks the dignity of the human person, may be legally abolished in every country. (See also http://www.popesprayerusa.net/)
ORDINARY TIME: SEPTEMBER 28th




Wednesday of the Twenty-Sixth Week of Ordinary Time; Optional Memorial of St. Wenceslaus, Martyr; St. Lawrence Ruiz and Companions, Martyrs
Other Commemorations: St. Simon de Rojas, Priest (RM) ; Other Titles: Wenceslas; Vaclav; Wenzel; Vaceslav; Wenceslaus of Bohemia; Lorenzo Ruiz; Laurence Ruiz;
Gospel Verse, Phil 3:8-9:
I consider all things so much rubbish that I may gain Christ and be found in him.
---
Today the Church celebrates two optional memorials of martyrs:
St. Wenceslaus (907-929) was Duke of Bohemia, who after many trials in governing and evangelizing his people, suffered martyrdom at the hands of his brother in the year 929.
St. Lawrence Ruiz and his companions shed their blood for Christ in Nagasaki, Japan in the 17th century (1633-1637) . These martyrs were members of the Order of St. Dominic. They were nine priests, two religious, two sisters, and three laymen. Among the latter was Lawrence Ruiz, a family man from the Philippines. They abundantly sowed the missionary seed of Christianity with the example of their life and death.
The Roman Martyrology also commemorates St. Simon de Rojas (1552-1624), a Spanish priest of the Trinitarian Order, who died in 1624. He was known as the "Apostle of the Ave Maria," for his devotion to the Blessed Virgin Mary. A person of many abilities, Simon was a theologian and a spiritual writer, as well as a friend and benefactor of the poor. He was canonized by Pope Saint John Paul II on July 3, 1988.
---
St. Wenceslaus
St. Wenceslaus, duke of Bohemia, was born about the year 907 at Prague, Bohemia (now the Czech Republic). His father was killed in battle when he was young, leaving the kingdom to be ruled by his pagan mother. Wenceslaus was educated by his grandmother, Ludmilla, also a saint. She taught him to be a Christian and to be a good king. She was killed by pagan nobles before she saw him king, but she left him with a deep committment to the Christian faith.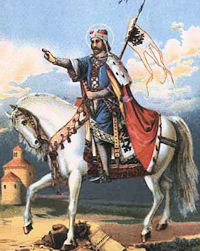 Throughout his life he preserved his virginity unblemished. As duke he was a father to his subjects, generous toward orphans, widows, and the poor. On his own shoulders he frequently carried wood to the houses of the needy. He often attended the funerals of the poor, ransomed captives, and visited those suffering in prison. He was filled with a deep reverence toward the clergy; with his own hands he sowed the wheat for making altar breads and pressed the grapes for the wine used in the Mass. During winter he would visit the churches barefoot through snow and ice, frequently leaving behind bloody footprints.
Wenceslaus was eighteen years old when he succeeded his father to the throne. Without regard for the opposition, he worked in close cooperation with the Church to convert his pagan country. He ended the persecution of Christians, built churches and brought back exiled priests. As king he gave an example of a devout life and of great Christian charity, with his people calling him "Good King" of Bohemia.
His brother Boleslaus, however, turned to paganism. One day he invited Wenceslaus to his house for a banquet. The next morning, on September 28, 929, as Wenceslaus was on the way to Mass, Boleslaus struck him down at the door of the church. Before he died, Wenceslaus forgave his brother and asked God's mercy for his soul. Although he was killed for political reasons, he is listed as a martyr since the dispute arose over his faith. This king, martyred at the age of twenty-two, is the national hero and patron of the Czech Republic. He is the first Slav to be canonized.
Patron: Bohemia; brewers; Czech Republic; Moravia.
Symbols: Armour; corn; black eagle; coffin held by angels; sword and purse; red banner charged with a white eagle; banner; staff; eagle on shield.
Things to Do:
Learn more about Prague and the Czech Republic and St. Vitus Cathedral, supposedly started by St. Wenceslas in the 10th century as a small chapel to house relics of St. Vitus and where in the 14th century St. John Nepomucene was buried after being executed for refusing to violate the seal of the confessional.
Teach your children the Christmas carol, Good King Wenceslas and discuss his life and virtue. If you can find a copy, a wonderful book with music and illustrations is called Good King Wenceslas: A Legend in Music and Pictures by Mary Reed Newland, published by Seabury Press, 1980.
Read about the Infant Jesus of Prague and pray the chaplet.
Bake a loaf of bread for dinner and serve Pilsner beer in honor of St. Wenceslas.
---
St. Lawrence Ruiz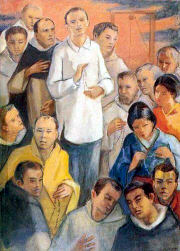 Lawrence Ruiz is the first Filipino to be canonized a saint. He and 15 others were martyred at Nagasaki, Japan in 1637. The group included two consecrated women, two other laymen, two brothers and nine priests.
Lawrence was born in Manila in the Philippines; his father was Chinese and his mother Filipino. He became associated with the Dominicans, and was a member of the Confraternity of the Holy Rosary. These Dominicans taught him Spanish, and from his parents he learned Chinese and Tagalog. He became a professional calligrapher and transcribed documents.
He married and had three children. In 1636, he fled the Philippines after being accused of murder. He joined a missionary group headed for Japan, where Catholics were being persecuted. It was soon found out that the members of this group were Catholic, so they were arrested and taken to Nagasaki. They were tortured for several days, first crushed while hanging upside down for three days, then the bodies were burned, with the ashes thrown into the Pacific Ocean on September 30, 1637. Pope John Paul II canonized these martyrs on October 18, 1987.
Symbols: martyr's crown; palm frond.
Things to Do:
---
St. Simón de Rojas O.SS.
Father Simón de Rojas of the Trinitarian Order was born at Valladolid, Castilla, Spain, the 28th of October, 1552. At twelve years of age, he entered the Trinitarian monastery of the city where he was born and there made his religious profession on October 28, 1572; he studied at the University of Salamanca from 1573 to 1579; he was ordained a priest in 1577; he taught philosophy and theology at Toledo from 1581 to 1587; from 1588 until his death he fulfilled with much prudence the office of superior in various monasteries of his province and was sent as apostolic visitor twice to his own province of Castilla, and once to that of Andalusia; on April 14, 1612 he founded the Congregation of the Slaves of the Sweet Name of Mary; in 1619 he was named tutor to the royal princes of Spain; on May 12, 1621 he was elected Provincial of Castilla; on January 1, 1622 he was chosen confessor of Queen Isabel of Borbon; he died on September 29, 1624.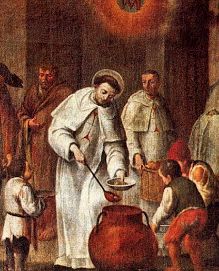 It was his mother, the virtuous Constanza, who instilled and helped grow in the soul of Simon the love of Mary. The veneration that she and her husband Gregorio constantly gave to Mary, makes it easily understandable why the first words that Simon, who had been a slow learner and stuttered, said at the age of fourteen months, were "Ave, Maria". He was only repeating the prayer so frequently recited by his parents.
His greatest joy was to visit Marian shrines, to pray to Mary and with Mary, to imitate her virtues, to sing her praises, to acknowledge her importance in the mystery of God and of the Church. Through profound theological studies, he came to understand even better the mission of Mary in cooperation with the Trinity for the salvation of the human race and the sanctification of the Church. He lived his religious vows in the imitation of Mary. He held that, for everyone to be completely of God, as Mary had been, it was necessary to become her slaves, or better, slaves of God in Mary; for this reason he established the Congregation of the Slaves of Mary for the greater glory of the Trinity, in praise of the Virgin, in the service of the poor. For him, to be a slave of Mary meant belonging totally to her: "Totus tuus" in order to unite oneself more intimately to Christ and in Him through the Spirit, to the Father.
The Congregation founded by him was intended for the laity: persons of every social class could join. The members, who included the King and his children, dedicated themselves to honor Mary by giving maternal help to her favorite children: the poor. This work still continues in Spain. Fr. Simon, who is held to be one of the greatest contemplatives of his time and who in his work, "The Greatness of Prayer" is clearly a great instructor of prayerful souls, wanted the contemplative dimension joined to the active through works of mercy. Faithful to the Trinitarian charism, he promoted the ransom of captives, he helped relieve the many needs of the poor, he consoled the sick, the destitute and the left-out of every kind. He accepted duties at the Court, only on the condition that he be able to continue his work with the poor, whom he helped in a thousand ways, always with a smile on his face and at any hour of the day or night. The expressions of his love of Mary are manifold. The painters who depicted him, put the greeting "Ave Maria" on his lips, words he uttered so frequently that he was familiarly called: "Father Ave Maria". He had thousands of images of the Most Holy Virgin printed with the inscription: "Ave Maria", which he also sent abroad. He had rosaries made with seventy-two blue beads on a white cord, symbols of the Assumption and the Immaculate Conception, and also a reminder that Mary, according to the belief of the time, lived to the age of 72 years. He sent these rosaries everywhere, even to England. Using his influence at Court, he had the angelic greeting so dear to him, "Ave Maria", engraved in letters of gold on the facade of the royal palace in Madrid. On June 5th, 1622, he petitioned the Holy See for the approval of his liturgical text composed in honor of the Sweet Name of Mary, which later, Pope Innocent XI extended to the universal Church.
After his death on September 29th, 1624, the honors bestowed on him at his funeral, took on the aspect of an anticipated canonization. For twelve days, the most reknown preachers of Madrid exalted his virtues and his holiness. Impressed with this unanimous veneration, on October 8th, shortly after Fr. Simon's death, the Papal Nuncio ordered the beginning of the process leading to his glorification by the Church. His heroic virtues were recognized by Clement XII, on March 25th, 1735; he was beatified by Clement XIII on March 19, 1766; and on July 3rd, 1988, just before the close of the Marian Year, Pope John Paul 11, entered the name of this great servant of Mary and Father of the poor on the list of the Saints.
Things To Do: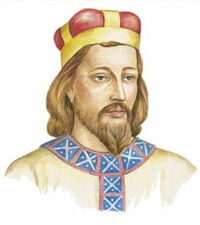 MASS READINGS
September 28, 2022 (Readings on USCCB website)
COLLECT PRAYER
Twenty-Sixth Week in Ordinary Time: O God, who manifest your almighty power above all by pardoning and showing mercy, bestow, we pray, your grace abundantly upon us and make those hastening to attain your promises heirs to the treasures of heaven. Through our Lord Jesus Christ, your Son, who lives and reigns with you in the unity of the Holy Spirit, God, for ever and ever.
---
Optional Memorial of St. Wenceslaus: O God, who taught the Martyr Saint Wenceslaus to place the heavenly Kingdom before an earthly one, grant through his prayers that, denying ourselves, we may hold fast to you with all our heart. Through our Lord Jesus Christ, your Son, who lives and reigns with you in the unity of the Holy Spirit, God, for ever and ever.
---
Optional Memorial of St. Lawrence Ruiz and Companions: Grant us, O Lord God, the patience of your martyrs Saint Lorenzo and his companions in your service and in that of our neighbor, because they who endure persecution for the sake of justice are blessed in your kingdom. Through our Lord Jesus Christ, your Son, who lives and reigns with you in the unity of the Holy Spirit, God, forever and ever.
https://www.catholicculture.org/culture/liturgicalyear/calendar/day.cfm?date=2022-09-28&
Daily Meditation: Job 9:1-12, 14-16
How much less shall I . . . choose out arguments against him? (Job 9:14)
Job is a blameless and upright man who fears God and always turns away from evil (Job 1:1). Yet he's suffering—and he wants to know why. Job is angry that God seems to be silent. And the questions Job asks, in this reading and throughout the book, are familiar. Why do some good people suffer? What do calamity and loss say about the all-powerful God? Why does an all-loving God tolerate atrocities? And why doesn't God answer my prayers?
Job acknowledges what he knows about God: he is "wise in heart and mighty in strength" (Job 9:4). God "does great things past finding out, marvelous things beyond reckoning" (9:10). Job knows he can't argue against God. But his questions can't be easily dismissed either. So Job continues to challenge the assertions of his four friends about who God is. He even challenges God himself!
And that's the point. Job didn't throw up his hands and lie in the dirt and die. Even in his anger and frustration, he persisted and kept questioning the Lord. He didn't get all the answers he was looking for, even when God eventually revealed himself to Job. But when he encountered God, he could finally say, "By hearsay I had heard of you, but now my eye has seen you" (Job 42:5).
When we find ourselves wondering why God allows painful things to happen in our lives, Job can be our model for how to keep going back to the Lord and posing those difficult questions. You don't have to be afraid to challenge him or ask him to help you understand who he is and how he's working in your life or in the lives of your loved ones.
God may give you insight into a situation or help you understand his ways more clearly. But even if you don't get satisfactory answers to your questions, know that God is pleased that, like Job, you continue to seek him out, even when your faith is being tested. Some things we won't truly understand until we get to heaven. But the best answer any of us can ever receive is God himself assuring us that he is always by our side!
"Lord God, help me to always trust in your goodness and mercy."
Psalm 88:10-15
Luke 9:57-62
MARY'S MEALS
Our mission is to enable people to offer their money, goods, skills, time, or prayer, and through this involvement, provide the most effective help to those suffering the effects of extreme poverty in the world's poorest communities. We welcome all into the Mary's Meals family and we believe everyone has something important to contribute to the realization of our vision.
For every $1 you give, 93 cents is spent directly on charitable activities. Thank you for your help and support!

MIRACULOUS MEDAL
 In 1830, one of the apparitions sanctioned by the Roman Catholic Church occurred in the chapel of the Daughters of Charity of St. Vincent de Paul, Rue de Bac, Paris. There were three visions given to Saint Catherine Laboure who, at the time of the first one, was a novice in the order. She was awakened at 11:30 PM on the eve of the Feast of St. Vincent de Paul, by a "shining child" who led her to the chapel where she saw Our Lady, who spoke to her for two hours about the difficult task that lay ahead. Four months later, on November 27 Catherine had the second vision wherein she saw a three-dimensional scene of the Blessed Virgin standing on a white globe with dazzling rays of light streaming from her fingers and she heard a voice say:
"These are the symbols of grace I shed upon those who ask for them."
"There now formed around the Blessed Virgin a frame rather oval in shape on which were written in letters of gold these words: 'O Mary conceived without sin, pray for us who have recourse to Thee' Then the voice said: ' Have a medal struck upon this model. All those who wear it, when it is blessed, will receive great graces especially if they wear it round the neck. Those who repeat this prayer with devotion will be in a special manner under the protection of the Mother of God. Graces will be abundantly bestowed upon those who have confidence.' "
At the same instant, the oval frame seemed to turn around. Then I saw on the back of it the letter 'M', surmounted by a cross, with a crossbar beneath it, and under the monogram of the name of Mary, the Holy Hearts of Jesus and of His Mother; the first surrounded by a crown of thorns and the second transpierced by a sword. I was anxious to know what words must be placed on the reverse side of the medal and after many prayers, one day in meditation I seemed to hear a voice which said to me: ' The 'M' with the Cross and the two Hearts tell enough.' "
This sacramental from Heaven was at first called simply the Medal of the Immaculate Conception, but began to be known as the Miraculous Medal due to the unprecedented number of miracles, conversions, cures, and acts of protection attributed to Our Lady's intercession for those who wore it.
Sister Catherine became Saint Catherine in 1947. The church instituted recognition of the apparition in which the Miraculous Medal first appeared for November 27, 1830. Millions of the Miraculous Medal have been distributed, and many graces and miracles have been received through this devotion to Our Lady.    
*Click on this link for a free Miraculous Medal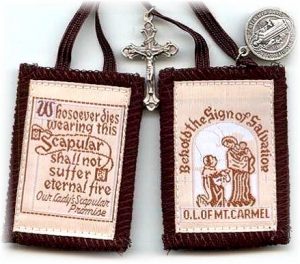 BROWN SCAPULAR OF MT. CARMEL
"Whosoever dies clothed in this
shall never suffer eternal fire."
Virgin Mary's promise to Saint Simon Stock
July 16, 1251″Wear it devoutly and perserveringly," she says to each soul, "it is my garment. To be clothed in it means you are continually thinking of me, and I in turn, am always thinking of you and helping you to secure eternal life."
The scapular is an external sign of the filial relationship established between the Blessed Virgin Mary, Mother and Queen of Mount Carmel, and the faithful who entrust themselves totally to her protection, who have recourse to her maternal intercession, who are mindful of the primacy of the spiritual life and the need for prayer.
THE SABBATINE PRIVELEGE
The blessed Virgin of Mt. Carmel has promised to save those who wear the scapular fromthe fires of Hell; She will also shorten their stay in Purgatory if they should passfrom this world still owing some temporal debt of punishment.
The Blessed Virgin appeared to him and speaking of those who wear the Brown Scapular said: "I, the Mother of grace, shall descend on the Saturday after their death and whomsoever I shall find in Purgatory, I shall free, so that I may lead them to the holy mountain of life everlasting."
Pope Benedict XV proceeded to grant an indulgence of 500 days for each time the cloth Scapular is kissed". On July 16th, the Scapular feast, while addressing the seminarians of Rome, Benedict XV said: "Let all of you have a common language and a common armor: the language, the sentences of the Gospel; the common armor, the Scapular of the Virgin of Carmel, which you all ought to wear and which enjoys the singular privilege of protection even after death."
Pope Benedict XV, addressing seminarians in Rome:"Let all of you have a common language and a common armor: The language, the sentences of the Gospel – the common armor, the Brown Scapular of the Virgin of Carmel which you ought to wear and which enjoys the singular privilege and protection after death."The Brown Scapular | A Sacramental"One of the most remarkable effects of sacramentals is the virtue to drive away evil spirits whose mysterious and baleful operations affect sometimes the physical activity of man. To combat this occult power the Church has recourse to exorcism, and sacramentals" (The Catholic Encyclopedia., 1913, VXIII, p. 293).The Brown Scapular | A True StoryYou will understand why the Devil works against those who promote the brown scapular when you hear the true story of Venerable Francis Yepes. One day his Scapular fell off. As he replaced it, the Devil howled, "Take off that habit which snatches so many souls from us! All those clothed in it die piously and escape us!" Then and there Francis made the Devil admit that there are three things which the demons are most afraid of: the Holy Name of Jesus; theHoly Name of Mary and the Holy Scapular of Carmel."Modern Heretics make a mockery of wearing the Scapular. They decry it as so much trifling nonsense." – St. Alphonsus LigouriMary, Mother of God and Our Mother"When Mary became the Mother of Jesus, true God and true Man, She also became our Mother. In His great mercy, Jesus wished to call us His brothers and sisters, and by this name He constituted us adopted children of Mary." – St. John BoscoOver the years there have also been many miracles associated with wearing the brown scapular.
*If you would like a brown scapular click here: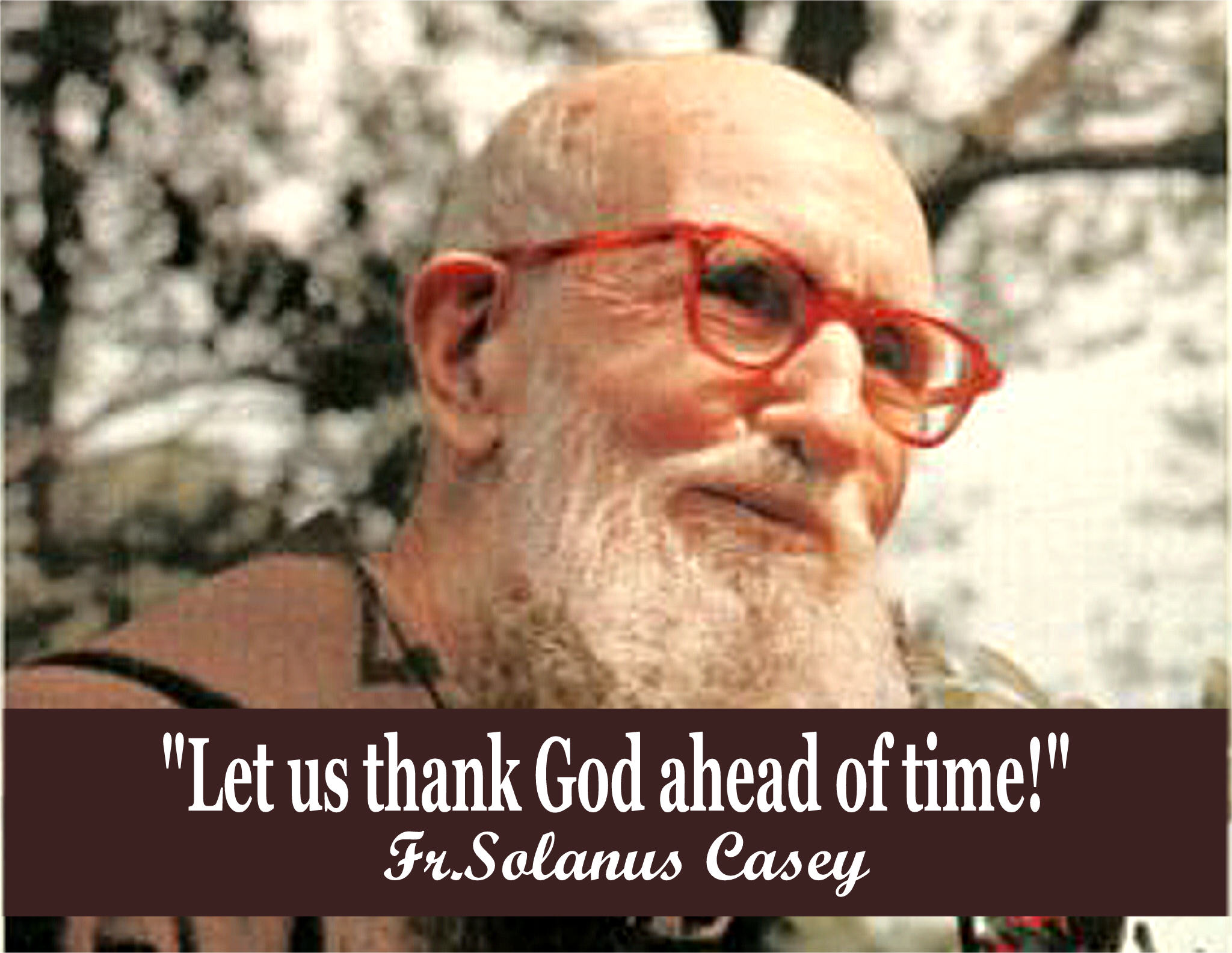 New Catholic Radio Station serving Chittenden County
Donna McSoley stands in St. Francis Xavier Church in Winooski. She is the driving force behind a new Catholic radio station. Photo by Gail Callahan
WINOOSKI – In a state identified in a national study two years ago as one of the least religious in the country, a new Catholic radio station is being hailed by the market and people of faith.
Our Lady of Perpetual Help Radio, which can be found at 105.5 FM, transmits 24-hour daily programming of the Eternal Word Television Network from the St. Francis Xavier Church property in Winooski. The station can be heard in the greater Burlington area and started broadcasting earlier this fall.
Donna McSoley, the driving force behind WRXJ 105.5 FM, said she is eager to begin producing some local programming after she learns more about audio editing software. McSoley said one of her ambitions is to air homilies from priests who serve the Roman Catholic Diocese of Burlington.
"I wanted to bring Catholic radio to Vermont because many people here have rejected Christianity without even knowing much about church history, the early church fathers, or never having read the Bible in its entirety," said McSoley. "Our state is in crisis over heroin and other drugs, and many people are lost and are desperately searching for freedom from addictions and a greater meaning in life."
In 2015, the Pew Research Center conducted the Religious Landscape study, and Vermont tied as the 48th most religious state. The study found 34 percent of the Green Mountain State's adults said they are "highly religious."
A state's spiritual devotion was measured by factors including "absolute belief in God and daily prayer."
The Rev. Lance Harlow, rector of the Cathedral of the Immaculate Conception and St. Joseph's Co-Cathedral in Burlington, records in WRXJ radio's Winooski station. Courtesy photo
McSoley, a parishioner at St. Francis Xavier Church, began the quest to secure a broadcast license more than five years ago when the Federal Communications Commission opened a small window to own a channel on the FM spectrum for a low-power station. It took about 18 months to secure the FCC's approval.
McSoley accesses the station's computers remotely from her Essex Junction home.
She said a radio station can reach people in ways other media outlets can't. "Radio can be a great way to reach people in the privacy of their own car and where people are apt to ponder life's great questions," she said. "I think for that reason, radio can be a great way to explain the Catholic faith, which is largely misunderstood by the general public. … My hope is that the programs on the station can clear this up and we can foster greater unity within the Christian community here in Vermont."
Ted Quigley, a practicing Catholic, embraces the organization. "105.5 FM is a wonderful change in my life," he said. "I turn it on when I'm driving or when I'm home cleaning."
The Most Rev. Christopher Coyne, bishop of Vermont's Catholics, recorded some station identifications that play through the hour.
Coyne, who was named by Pope Francis to shepherd Vermont's Catholics nearly two years ago, said he welcomes the station, praising McSoley's efforts. "The Catholic community in Vermont has been very supportive of the launch of Our Lady of Perpetual Help Radio," said Coyne. "Right now, this is the only Catholic radio station in Vermont. I hope to see many more begin to broadcast soon."
Coyne's remarks regarding the dearth of religious broadcasting in Vermont underscore what many perceive as an absence of God from the public dialogue. The FCC said it doesn't keep track of content when license applications come in.
The program director for a Christian radio network serving Vermont said religious-oriented radio outlets are filling a much-needed niche. Bob Pierce, of The Light Radio Network, said his Christian station reaches about 15,000 listeners in Chittenden County.
In a competitive market, McSoley said she is anxious for WRXJ's message to spread. "Although Vermont is one of the least religious states in the country, I have great faith that people will always be able to recognize truth when they hear it, so my hope is that many people will turn on the radio and start the journey toward discovering God," she said.
https://vtdigger.org/2017/11/05/new-catholic-radio-station-serving-chittenden-county/#.WgItH9QrK6Y