The month of November is dedicated to Souls in Purgatory, whose feast is celebrated on November 2. The entire month of November falls during the liturgical season known as Ordinary Time, which is represented by the liturgical color green. This symbol of hope is the color of the sprouting seed and arouses in the faithful the hope of reaping the eternal harvest of heaven, especially the hope of a glorious resurrection. It is used in the offices and Masses of Ordinary Time. The last portion of the liturgical year represents the time of our pilgrimage to heaven during which we hope for reward.
The Holy Father's Intentions for the Month of November 2019
Dialogue and Reconciliation in the Near East: That a spirit of dialogue, encounter, and reconciliation emerge in the Near East, where diverse religious communities share their lives together. (See also http://www.popesprayerusa.net/)
Angel of God, my guardian dear, to whom God's love commits me here, ever this day be at my side, to light and guard, to rule and guide. Amen.
Thirty-Third Sunday of Ordinary Time
"Nation will rise against nation and kingdom against kingdom. There will be great earthquakes, plagues, and famines in various places — and in the sky fearful omens and great signs. But before any of this, they will manhandle and persecute you, summoning you to synagogues and prisons, bringing you to trial before kings and governors, all because of my name. You will be brought to give witness on account of it. I bid you resolve not to worry about your defense beforehand, for I will give you words and a wisdom which none of your adversaries can take exception to or contradict. You will be delivered up even by your parents, brothers, relatives and friends, and some of you will be put to death. All will hate you because of me, yet not a hair of your head will be harmed. By patient endurance, you will save your lives."
The feast of St. Frances Xavier Cabrini, which is ordinarily celebrated today, is superseded by the Sunday liturgy.
Click here for commentary on the readings in the Extraordinary Form of the Roman Rite.
---
Sunday Readings
The first reading is taken from the Prophecy of Malachi 3:19-20 and concerns the day of retribution, of judgment when the Lord will punish the wicked and reward His faithful ones.
The second reading is from the second letter of Paul to the Thessalonians 3:7-12, in which he addresses those few in the community who were unwilling to earn their daily bread and were abusing the charity of their fellow Christians.
The Gospel is from St. Luke, 21:5-19. The reason why these verses of St. Luke's gospel was chosen for today's Mass is that the Church wants us all to do a bit of spiritual stock-taking this morning. As next Sunday will be the special feast day of the Kingship of Christ, today's Mass is really the last of our liturgical year. Next Sunday, we begin our new liturgical year, the First Sunday of Advent. To help us to be honest with ourselves in our stock-taking we are reminded today that this world will come to an end one day. We do not know when or how, but that end will come. It will be followed immediately by the general judgment. Christ will come in power and glory to judge the whole human race. Each one will receive the sentence he merited while on earth. The just will enter with Him into eternal glory. The wicked will go to their place of suffering, sorrow and remorse.
Long before that day comes, each of us here present today will already have faced his or her own particular judgment. It is this judgment which will seal our eternal fate. It is on this judgment that we should try to concentrate this morning. It is to help and encourage us to do just this that the church brings the thought of the end of the world before our minds. The end of this world will come for each one of us when we draw our last breath. How will we stand in God's sight when that moment comes? An eternity of happiness or grief will depend on our spiritual state at that moment.
The thought of death is a frightening thought for most of us. We would rather put it far from our minds, but of all the other things that can possibly happen to us on this earth, death is the one and only certainty. It would be utter folly then to try to ignore it or forget it. It is not the moment or the circumstances or the fact itself of death that matters. The vast majority, even of those dying of a slow illness, do not know that they are on the point of death. What matters is the judgment which follows death. How will we fare in that?
Each one of us can put the following simple question to ourselves this very moment. How would I fare if I were called before the judgment seat of God today? The best of us would certainly prefer to be better prepared. There is so much good I have left undone, so many faults for which I have not atoned properly, so many uncharitable thoughts about my friends and neighbors in my mind, so many acts of charity I kept postponing, so many acts of thanksgiving and praise I have not made to my loving God.
What of those who have even more serious sins on their consciences? Over two hundred thousand people will leave this world between now and midnight. If we were called, and we have no guarantee that we will not be called today, could we dare to face our judgment in our present state? "Today if you hear God's voice harden not your heart" the scripture warns us. Today you have heard Him speak to you. He has reminded you that your end is coming, that you should put your spiritual accounts in order. This is an act of God's mercy. He does not need you, It is you who need Him. Your eternal future will depend on whether you listen to His call today, as tomorrow may be too late. You can put your accounts straight this very day. Why take a risk with your own eternal welfare?
The Christian who wants to die in the state of grace, that is, in the friendship of God (and can there be any real Christian who would not want to?) has but one way of making sure of this. He is to try to live always in God's friendship. The man who does this by living his Christian life daily need not fear death. It may be a sudden death, but it will never be an unprovided-for death.
— Excerpted from The Sunday Readings Cycle C, Fr. Kevin O' Sullivan, O.F.M.
---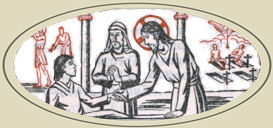 Commentary on the Readings for the Twenty-Third Sunday after Pentecost
"When Jesus came to the ruler's house, and saw the flute players and the crowd making a din, He said, 'Begone, the girl is asleep, not dead.' And they laughed Him to scorn. But when the crowd had been put out, He went in and took her by the hand; and the girl arose" (Gospel).
Notice the small flute-playing figures at the left. They represent the crowd of people who laugh their Creator to scorn.
Yet how often we move among them, enjoying what we call "life," even though we may be spiritually dead.
The trumpet-blowing angel at the right, summoning the dead to life, represents how Jesus, after the crowd has been put out by us, raises His Hand over us in absolution, extends His Hand to us in Holy Communion.
St. Paul, too, warns us against these ;enemies of the cross of Christ whose end is ruin, whose god is the belly."
Excerpted from My Sunday Missal, Confraternity of the Precious Blood
MARY'S MEALS
Our mission is to enable people to offer their money, goods, skills, time, or prayer, and through this involvement, provide the most effective help to those suffering the effects of extreme poverty in the world's poorest communities. We welcome all into the Mary's Meals family and we believe everyone has something important to contribute to the realization of our vision.
For every $1 you give, 93 cents is spent directly on charitable activities. Thank you for your help and support!

MIRACULOUS MEDAL
 In 1830, one of the apparitions sanctioned by the Roman Catholic Church occurred in the chapel of the Daughters of Charity of St. Vincent de Paul, Rue de Bac, Paris. There were three visions given to Saint Catherine Laboure who, at the time of the first one, was a novice in the order. She was awakened at 11:30 PM on the eve of the Feast of St. Vincent de Paul, by a "shining child" who led her to the chapel where she saw Our Lady, who spoke to her for two hours about the difficult task that lay ahead. Four months later, on November 27 Catherine had the second vision wherein she saw a three-dimensional scene of the Blessed Virgin standing on a white globe with dazzling rays of light streaming from her fingers and she heard a voice say:
"These are the symbols of grace I shed upon those who ask for them."
"There now formed around the Blessed Virgin a frame rather oval in shape on which were written in letters of gold these words: 'O Mary conceived without sin, pray for us who have recourse to Thee' Then the voice said: ' Have a medal struck upon this model. All those who wear it, when it is blessed, will receive great graces especially if they wear it round the neck. Those who repeat this prayer with devotion will be in a special manner under the protection of the Mother of God. Graces will be abundantly bestowed upon those who have confidence.' "
At the same instant, the oval frame seemed to turn around. Then I saw on the back of it the letter 'M', surmounted by a cross, with a crossbar beneath it, and under the monogram of the name of Mary, the Holy Hearts of Jesus and of His Mother; the first surrounded by a crown of thorns and the second transpierced by a sword. I was anxious to know what words must be placed on the reverse side of the medal and after many prayers, one day in meditation I seemed to hear a voice which said to me: ' The 'M' with the Cross and the two Hearts tell enough.' "
This sacramental from Heaven was at first called simply the Medal of the Immaculate Conception, but began to be known as the Miraculous Medal due to the unprecedented number of miracles, conversions, cures, and acts of protection attributed to Our Lady's intercession for those who wore it.
Sister Catherine became Saint Catherine in 1947. The church instituted recognition of the apparition in which the Miraculous Medal first appeared for November 27, 1830. Millions of the Miraculous Medal have been distributed, and many graces and miracles have been received through this devotion to Our Lady.    
*Click on this link for a free Miraculous Medal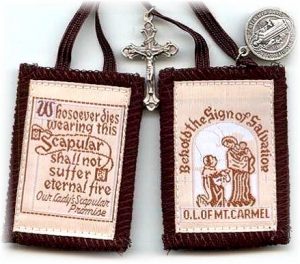 BROWN SCAPULAR OF MT. CARMEL
"Whosoever dies clothed in this
shall never suffer eternal fire."
Virgin Mary's promise to Saint Simon Stock
July 16, 1251″Wear it devoutly and perserveringly," she says to each soul, "it is my garment. To be clothed in it means you are continually thinking of me, and I in turn, am always thinking of you and helping you to secure eternal life."
The scapular is an external sign of the filial relationship established between the Blessed Virgin Mary, Mother and Queen of Mount Carmel, and the faithful who entrust themselves totally to her protection, who have recourse to her maternal intercession, who are mindful of the primacy of the spiritual life and the need for prayer.
THE SABBATINE PRIVELEGE
The blessed Virgin of Mt. Carmel has promised to save those who wear the scapular fromthe fires of Hell; She will also shorten their stay in Purgatory if they should passfrom this world still owing some temporal debt of punishment.
The Blessed Virgin appeared to him and speaking of those who wear the Brown Scapular said: "I, the Mother of grace, shall descend on the Saturday after their death and whomsoever I shall find in Purgatory, I shall free, so that I may lead them to the holy mountain of life everlasting."
Pope Benedict XV proceeded to grant an indulgence of 500 days for each time the cloth Scapular is kissed". On July 16th, the Scapular feast, while addressing the seminarians of Rome, Benedict XV said: "Let all of you have a common language and a common armor: the language, the sentences of the Gospel; the common armor, the Scapular of the Virgin of Carmel, which you all ought to wear and which enjoys the singular privilege of protection even after death."
Pope Benedict XV, addressing seminarians in Rome:"Let all of you have a common language and a common armor: The language, the sentences of the Gospel – the common armor, the Brown Scapular of the Virgin of Carmel which you ought to wear and which enjoys the singular privilege and protection after death."The Brown Scapular | A Sacramental"One of the most remarkable effects of sacramentals is the virtue to drive away evil spirits whose mysterious and baleful operations affect sometimes the physical activity of man. To combat this occult power the Church has recourse to exorcism, and sacramentals" (The Catholic Encyclopedia., 1913, VXIII, p. 293).The Brown Scapular | A True StoryYou will understand why the Devil works against those who promote the brown scapular when you hear the true story of Venerable Francis Yepes. One day his Scapular fell off. As he replaced it, the Devil howled, "Take off that habit which snatches so many souls from us! All those clothed in it die piously and escape us!" Then and there Francis made the Devil admit that there are three things which the demons are most afraid of: the Holy Name of Jesus; theHoly Name of Mary and the Holy Scapular of Carmel."Modern Heretics make a mockery of wearing the Scapular. They decry it as so much trifling nonsense." – St. Alphonsus LigouriMary, Mother of God and Our Mother"When Mary became the Mother of Jesus, true God and true Man, She also became our Mother. In His great mercy, Jesus wished to call us His brothers and sisters, and by this name He constituted us adopted children of Mary." – St. John BoscoOver the years there have also been many miracles associated with wearing the brown scapular.
*If you would like a brown scapular click here: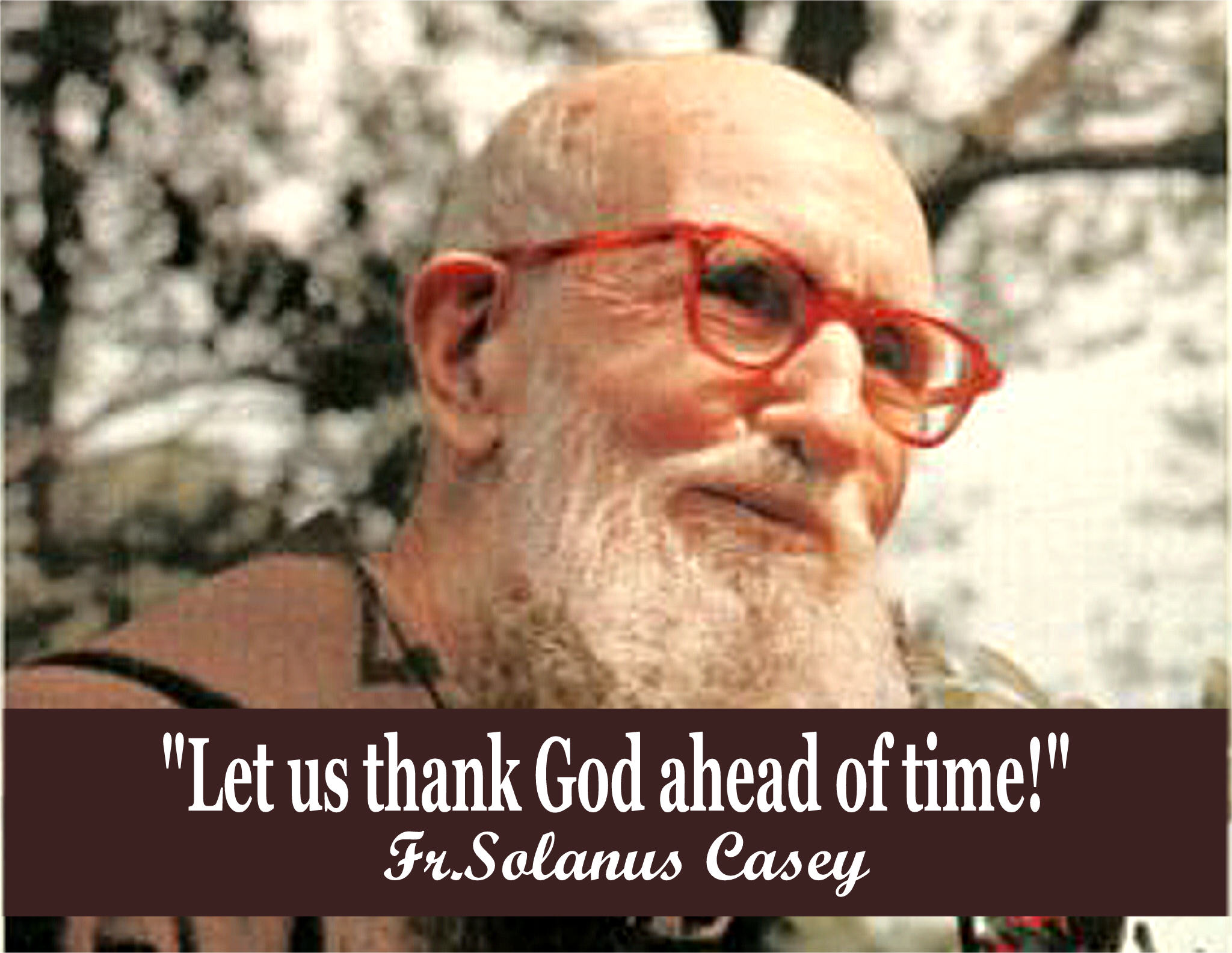 New Catholic Radio Station serving Chittenden County
Donna McSoley stands in St. Francis Xavier Church in Winooski. She is the driving force behind a new Catholic radio station. Photo by Gail Callahan
WINOOSKI – In a state identified in a national study two years ago as one of the least religious in the country, a new Catholic radio station is being hailed by the market and people of faith.
Our Lady of Perpetual Help Radio, which can be found at 105.5 FM, transmits 24-hour daily programming of the Eternal Word Television Network from the St. Francis Xavier Church property in Winooski. The station can be heard in the greater Burlington area and started broadcasting earlier this fall.
Donna McSoley, the driving force behind WRXJ 105.5 FM, said she is eager to begin producing some local programming after she learns more about audio editing software. McSoley said one of her ambitions is to air homilies from priests who serve the Roman Catholic Diocese of Burlington.
"I wanted to bring Catholic radio to Vermont because many people here have rejected Christianity without even knowing much about church history, the early church fathers, or never having read the Bible in its entirety," said McSoley. "Our state is in crisis over heroin and other drugs, and many people are lost and are desperately searching for freedom from addictions and a greater meaning in life."
In 2015, the Pew Research Center conducted the Religious Landscape study, and Vermont tied as the 48th most religious state. The study found 34 percent of the Green Mountain State's adults said they are "highly religious."
A state's spiritual devotion was measured by factors including "absolute belief in God and daily prayer."
The Rev. Lance Harlow, rector of the Cathedral of the Immaculate Conception and St. Joseph's Co-Cathedral in Burlington, records in WRXJ radio's Winooski station. Courtesy photo
McSoley, a parishioner at St. Francis Xavier Church, began the quest to secure a broadcast license more than five years ago when the Federal Communications Commission opened a small window to own a channel on the FM spectrum for a low-power station. It took about 18 months to secure the FCC's approval.
McSoley accesses the station's computers remotely from her Essex Junction home.
She said a radio station can reach people in ways other media outlets can't. "Radio can be a great way to reach people in the privacy of their own car and where people are apt to ponder life's great questions," she said. "I think for that reason, radio can be a great way to explain the Catholic faith, which is largely misunderstood by the general public. … My hope is that the programs on the station can clear this up and we can foster greater unity within the Christian community here in Vermont."
Ted Quigley, a practicing Catholic, embraces the organization. "105.5 FM is a wonderful change in my life," he said. "I turn it on when I'm driving or when I'm home cleaning."
The Most Rev. Christopher Coyne, bishop of Vermont's Catholics, recorded some station identifications that play through the hour.
Coyne, who was named by Pope Francis to shepherd Vermont's Catholics nearly two years ago, said he welcomes the station, praising McSoley's efforts. "The Catholic community in Vermont has been very supportive of the launch of Our Lady of Perpetual Help Radio," said Coyne. "Right now, this is the only Catholic radio station in Vermont. I hope to see many more begin to broadcast soon."
Coyne's remarks regarding the dearth of religious broadcasting in Vermont underscore what many perceive as an absence of God from the public dialogue. The FCC said it doesn't keep track of content when license applications come in.
The program director for a Christian radio network serving Vermont said religious-oriented radio outlets are filling a much-needed niche. Bob Pierce, of The Light Radio Network, said his Christian station reaches about 15,000 listeners in Chittenden County.
In a competitive market, McSoley said she is anxious for WRXJ's message to spread. "Although Vermont is one of the least religious states in the country, I have great faith that people will always be able to recognize truth when they hear it, so my hope is that many people will turn on the radio and start the journey toward discovering God," she said.
https://vtdigger.org/2017/11/05/new-catholic-radio-station-serving-chittenden-county/#.WgItH9QrK6Y